Magnetic Equipments- Magnetic Rack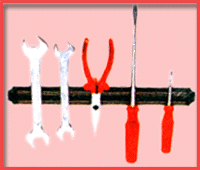 STAR TRACE Magnetic Racks comprising of powerful magnets between mild steel pole pieces are useful as tool rack for hanging tools in a convenient and neat manner. They can also be used as jigs for holding and greasing.
It is an inexpensive and convenient tool for solving holding problems requiring a large holding area.
It is available in straight and circular shapes and for light and heavy duties.
design
magnetic
exporters
globally
india
rack
manufacturers
sale
suppliers